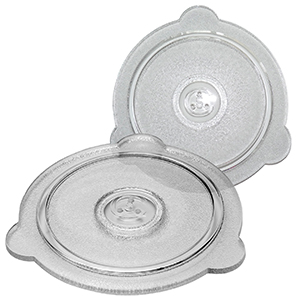 We enjoy trying new kitchen gadgets.  Some are great. Some don't measure up and some become staples in our kitchen. See what you think.
Microwave ovens heat by agitating the water in food. Food heats as the water molecules flip around. If cooking time is prolonged the water evaporates. The inside of some microwave ovens looks like a biohazard zone because the food being heated literally explodes as the water inside evaporates. Covering food during heating forces the water to drop back down onto the food. Paper towels, a typical cover, absorbs some of the water. Tight lids that are not vented may pop off or crack. Plastic lids, after repeated uses, may become misshapen, discolor or absorb food odors.
Cuchina Safe Vented Glass Lids are an answer to safely heating food in the microwave oven. The clear class lid has three vents in the center which allows steam to escape and concentric rings to prevent slipping as the dish rotates. The lid is made of borosilicate glass, a durable, hypoallergenic, lead-free, BPA-free glass that does not retain odors or stains.  Cuchina glass lids are available in 8, 9 and 11-inch sizes. In addition to being used in the microwave, the lids can top a pot on the stove or in the oven to 450 degrees, and they are dishwasher safe. The brand website offers numerous microwave recipes.