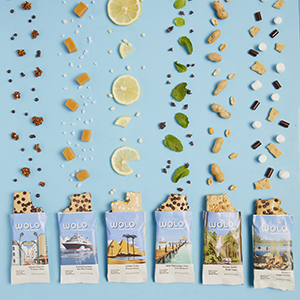 We love to try new foods. Some are great. Some don't measure up and some become staples in our kitchen. See what you think.
Wolo WanderBar is a high protein, low sugar, high fiber, 1.94-ounce snack bar. Each bar is wrapped in packaging reminiscent of nostalgic travel poster illustrations.
WanderBars come in 6 varieties: Cocoa Crunch Frequent Flyer, Lemon Cake Dessert Oasis, Mint Chocolate Chip Lost Weekend, Peanut Butter Road Tripper, Salted Caramel Bon-Bon Voyage and S'more Happy Camper. Each bar has 220 calories, 15 grams of protein, 11 to 12 grams of fiber, 4 to 6 grams of sugar, 100 to 150 milligrams of calcium, 60% of your daily need for vitamin C, and all flavors are low in sodium.
Depending on the flavor you prefer, we found all varieties to have a good taste with lots of chewing satisfaction. The high protein content, a mixture of whey, milk and pea protein, makes WanderBars a satisfying snack. The only drawback we experienced is that the creamy topping stuck to the packaging and this might be a problem in warm weather. WanderBars are kosher certified (OU).