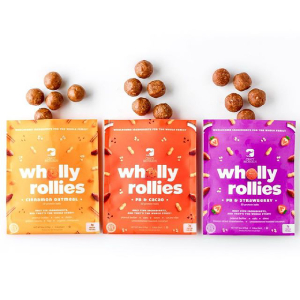 We love to try new foods. Some are great. Some don't measure up and some become staples in our kitchen. See what you think.
Wholly Rollies are frozen protein snack balls from Crazy Richard's Peanut Butter Company. The are certified gluten-free and kosher certified (OU).
Wholly Rollies come in three varieties sold in a 6-ounce recloseable package containing 10 snack balls. Each snack ball (0.6 ounces) has 90 calories, 6 grams of fat, 6 grams of carb, 1 gram of fiber, no sodium, and no added sugar.
Cinnamon Oatmeal: 4 grams of protein and 47 milligrams of potassium
PB & Cacao: 3 grams of protein and no potassium
PB & Strawberry: 3 grams of protein and 47 milligrams of potassium, this one was our favorite.
Crazy Richards's is a Certified B Corporation which means they balance the profit of the company with its overall purpose, considering how their business decisions impact their workers, customers, suppliers, community and the environment. B Corporations are driving a global movement using business as a force for good.