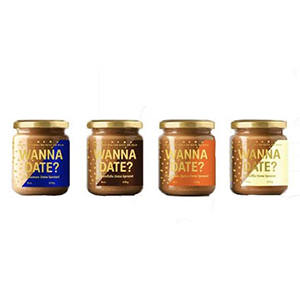 We love to try new foods. Some are great. Some don't measure up and some become staples in our kitchen. See what you think.
Wanna Date? is a date spread that is a very interesting product and offers a nice alternative to fruit butters, jams or jellies. Wanna Date? was conceived by a young entrepreneur as a sweet alternative to sugary options. It comes in 4 flavors, in a 9-ounce jar – Chocolate, Cinnamon, Pumpkin Spice, and Vanilla
Each flavor is made with just 5 ingredients: dates, water, organic cane sugar, citric acid plus a flavor for each variety. Since dates are naturally sweet, there are only 2 grams of added sugar in each serving, 1 tablespoon (30 calories).
Wanna Date? is vegan, gluten-free, dairy free and nonGMO. In addition to enjoying a spoonful right from the jar, Wanna Date? can be used with peanut butter, on toast, stirred into yogurt or oatmeal, spread on fresh fruit, added to a cheese platter, spread on pancakes or used in any other creative way you can come up with.