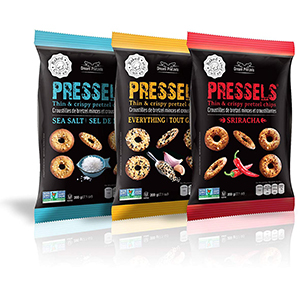 We love to try new foods. Some are great. Some don't measure up and some become staples in our kitchen. See what you think.
Pressels are baked, thin, crispy, pretzel chips that are pressed, not fried, making them sturdier than a chip and more like crunchy crackers. They are good as a snack but firm enough to use for dipping.
Pressels are available in four varieties.
Everything, Sea Salt, Sesame, Sriracha
One serving, 20 Pressels (1 ounce) has 120 calories and 210 milligrams of sodium. One serving of Sea Salt has 110 calories. Pressels are NonGMO Project Verified, vegan, kosher certified (OU), and contain no additives or preservatives. They are sourced from Israel.