We love to try new foods. Some are great. Some don't measure up and some become staples in our kitchen. See what you think.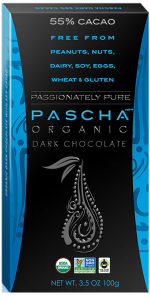 Pascha Chocolate's goal is to produce a simple, intense chocolate-flavored, allergen-free product. All varieties are free of the major food allergens – peanuts, nuts, soy, dairy, egg, and wheat. Their chocolate bars are simply made from organic sugar, cocoa, cocoa butter and vanilla and produced in a dedicated allergen-free plant.
Pascha makes 3.5-ounce chocolate bars and chocolate chips (8.8-ounce bags). The bars are available in 55% to 85% cacao and the chips come in 55%, 85% and 100% cacao. What you choose is personal taste. As the cacao percentage goes up the intensity of the chocolate increases and the flavor becomes a combination of sweet and bitter.
Besides being allergen-free all Pascha chocolates are USDA Certified Organic. NonGMO Project Verified (no genetically modified ingredients), Fair Trade Certified, Certified Vegan, and kosher certified (Kosher Peru).